Transport, delivery, WOOD ENERGY, improve your supply chain with TRANSMANUT
The delivery, transport and storage of bulk or bags are new fast-evolving businesses. Those are major economic issues. Early on, TRANSMANUT has specialized its equipment and offers today a first-rate expertise.
A range of equipment of : transportation, pellets delivery and woodchips in bulks or bags

Blowing cistern especially for rigids, with a commercial accuracy weighing system
Appropriate components:  Development and design of main parts such as

special rotary valves

that allow the pellets' discharge to keep its own qualities
A design: With its know-how, TRANSMANUT carries out the whole tanks' sheating (lateral compartments, overhang sheating…) in order to offer an harmonious equipment with contained sizes, included in a wide range of payloads from 6 to 15 tons.
An approved weighing (commercial accuracy): a weighing indicator makes possible the display in real time of the weight that has been delivered. A printing ticket is given after each delivery. The whole system is approved and certified.
Removable blowing cistern, autonomous, equipped with a commercial accuracy weighing system
From 6 to 12 tons of payload, according to the rigid maximum authorized total weight
Blowing cistern completely autonomous with a booster pump in the rear compartment; cistern on a cradle to remove on the floor
Over a distance of 20 meters, with a pressure of 0,4 to 0,5 bars, the flow rates will be approximately of 15 tons per hour with a minimum dust emission
The best way to transport wood energy
Blowing cistern on cradle
Up to today, Transmanut has many references in bodyworking dedicated to the transportation of pellets.
In order to meet growing demand of fuel distributors, wishing to offer an environmentally alternative of heating, we've developed a new elliptically shaped removable cistern on a cradle
This cistern, fully in aluminium, has qualitative characteristics and accessories.
Moreover, there are compartments for hoses with independent sleeves, a box, an access ladder on the rear with a safety handrail in stainless steel, a backward movement with camera with an LCD screen into the cabin, a commercial accuracy approved weighing system allowing a ticket printing for the customer, a remote control for stopping and starting up the equipment, a vacuum cleaner, etc…
This cistern can be quickly removed on the floor thanks to the fully air suspension of the vehicle.
A body with sliding curtains with a truck-mounted forklift (Type CAB) makes the transportation and the delivery of your pallets to your customers fully independent.
Two-axle full trailer
Get the most of your tours, a rigid can be equipped with a trailer and becomes a surge hopper. The transfer is done from the rigid to the trailer with an articulated screw.
Transport equipment: pellets and woodchips in bulk and bags
Download the brochure Wood energy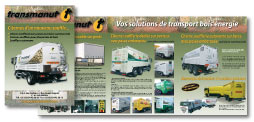 Click on each picture or on this link (PDF 1,75 Mo)